Watchpost PATENT NZ 548808
The Watchpost is a self-contained, self-protecting video surveillance system that can be sited in the most remotest places. Day/Night cameras, security equipment, communications and ventilation control are all housed within an enclosure, usually a post.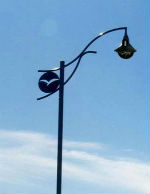 Self Protecting
Sirens and flashing strobe lights will sound for shock, smoke, heat, glass breakage, tamper, humidity, off vertical and anti-masking detection. Alarm signals are sent by radio cellular communication to an alarm monitoring station up to 70 kms away.
Live Viewing
The Watchpost system only requires 230 Volts to operate. 500 gigabyte retrievable swappable Hard drives can record Night/day events for 30 days. By connecting a phone line, the Watchpost system can use broadband for cheaper live viewing.

The Watchpost system can be adapted to fit into existing enclosures or custom designed by us, for:
Remote tourist locations

Children's Playgrounds

Walking tracks

Construction sites

Street events, field days

Secluded work sites

Monitor Illegal dumping

Assist with policing, liquor bans, concerts

Shopping Malls

Social and environmental surveys
Security Plus offers a multi-disciplined approach to projects offering design, supply of equipment, installation, maintenance and project management support to Integrated Solutions and Communication Systems.
At Security Plus we always aim to provide tailor-made solutions to meet our client's needs. Feel free to contact us to discuss your requirements.
"…I was sick to death of getting diesel, chainsaws, parts and machinery robbed and vandalised."
"…Security plus solved the problem with the best deterrant ever"
Tony McMullan- Bush Contractor